Event: Digital Sessions Women Edition Flat 101, 2020.
The online purchase of food in Spain is experiencing an unprecedented boom this year, but are online supermarkets prepared to give users a fluid, effective and pleasant experience?
In the independent study carried out by the Flat 101 UX Lab, we found variations in experience between supermarkets and devices, but in general, it is detected that there is a wide margin for improvement in the sector.
It should be noted that the experience on mobile devices is worse than the shopping experience on desktop, so this device (given its growing traffic) must be worked with special interest.
The study analyzed the online supermarkets of Hipercor, Alcampo, Carrefour, Eroski, DIA and Mercadona.
The technique used for the study was User Testing, combining moderate sessions with non-moderate sessions. Since the objective, in addition to finding usability inefficiencies, was to obtain a comparative metric between the analyzed sites, a total of 15 tests were carried out per supermarket so that the SUS score was statistically relevant (Nielsen, 1993).
The usability scale system (System Usability Scale or SUS) is a standardized questionnaire that allows the perception of the usability of a system to be universally measured. This questionnaire is filled out by users after having performed the tasks on the site requested during the user test.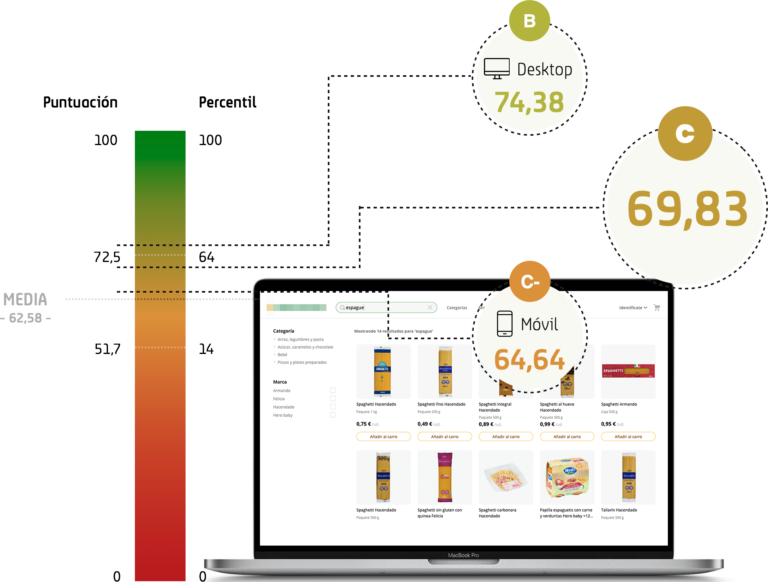 If you want to know the complete results of the study, you can download it for free through the Flat 101 Innovation Hub.